Welcome to LCSI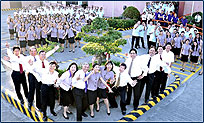 Welcome to LCSI

The Linaheim Corporate Services, Inc. is a proud member of the Lina Group of Companies. Our edge lies on our competitive team working vigorously to provide corporate services for our sister companies. We are on board for human capital management, financial services, purchasing and materials management, accounting, quality process management, credit and collection, treasury, planning, audit, and corporate legal.
The growing demands of the logistics industry called for the development of professional...
With 'People' as part of the Lina Group of Companies (LGC) Core Values focusing on the...